Golfers came out to enjoy the reopened golf course at San Vicente Golf Resort in Ramona on Sunday following the completion of a multimillion-dollar renovation project that lasted nine months.
The preview rounds throughout February are exclusively for members and participants of the San Vicente Golf Club and The Players Club as well as San Diego Country Estates Association homeowners' association players. A second preview round for guests and the public will begin March 1.
Financial and other details are still being finalized and the cost of the renovation project as well as a grand opening date will be announced this spring. The project involved fully renovating all putting greens, sand bunkers, and teeing complexes to increase strategy and bring a unique style and aesthetic to the San Diego golf market, according to architect Staples Golf Design.
The updated 18-hole golf course constructed by Heritage Links reflects the vision of architect Andy Staples, principal of Scottsdale, Ariz.-based Staples Golf Design. His aim was to allow every green to accommodate low to high playing levels and include a variety of sizes, shapes and slopes. The course is designed for anyone who enjoys the challenging game of golf but is also intended to perform for higher level tournaments, Staples said.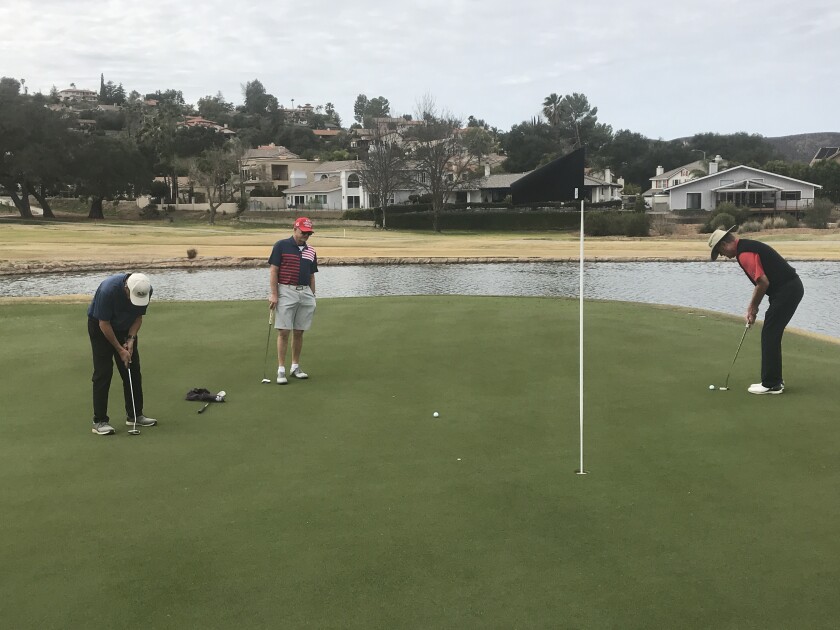 "Our vision from the beginning was to take this course to another level in terms of design aesthetic, playability, and of course, fun," Staples said. "I think San Vicente's members and guests are going to be blown away with the improvements."
Mario Trejo, general manager of the San Diego Country Estates Association, said the course will provide a more exciting and challenging experience for all levels of golfers. The biggest improvements are updates to the 50-year-old greens and bunkers that will now drain adequately, Trejo said.
"We interviewed three other architects and Andy Staples showed a lot of enthusiasm," Trejo said. "The results are outstanding."
The reimagined golf course includes:
Nineteen new green complexes and all new bunkers
Focused "inland links" that center on the ground game, creative approaches, and short grass areas
Strategic green designs that emphasize the selection of the correct angle of approach
Pin locations on each green complex that will offer a moderate approach or a more aggressive option to increase "equity" for all levels of players
Green complexes surrounded in short grass function as safe sides — to provide for a variety of creative recovery shots using a wedge to a putter.
The golf course was closed April 1, 2020 through Jan. 30, 2021. Construction is considered an "essential" business and the work was allowed under the state and county COVID-19 guidelines, officials said.
Trejo said Heritage Links was extremely cautious in following all the COVID safety policies and procedures.
"The golf course has five sets of tees and an eclectic layout that provides both short target holes and longer holes in the layout," said San Vicente PGA Golf Pro Matt Brumbaugh. "I believe this will be both enjoyable and challenging for all golfers. We are excited to open and look forward to seeing people golfing again."