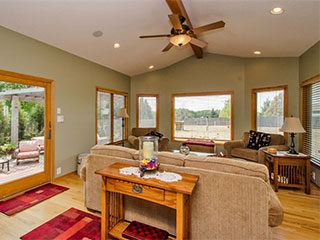 The first step is to plan what you want to do with your home renovation. Home renovation is known as improving an outdated structure to make it more functional. The most important factor in home renovation is money. No one will spend large amounts of money without expecting a good return on home improvement projects. You might want to improve your home's efficiency by hiring professional contractors for green home renovation. Determine how much money you have to spend on the home remodeling project.
You can divide your whole renovation plan according to your requirement and space and effectively renovate your home. The simplest types of home remodeling are:
Repairing the broken structures:
Cracked walls, leaking drainage and rainwater, and missing roof tiles can all cause structural issues in your home. If cracks appear in a home, contact a home renovation contractor who will appoint a structural surveyor to inspect the entire situation before any repair work begins.
The drainage system and water pipes are critical components of any home. Drain pipes comprise the drainage system. Since they are invisible, leaks in your home's drain or water pipes can cause severe damage. To resolve the leakage issues, you must contact plumbers.
You have no idea what type of space you want to add to your home. If you want to add a new room or expand an existing one, add a bathroom, upgrade the Kitchen, or change the garage, you should get a detailed site plan, and 3D plans to show you how to easily add more space to your existing home.
Upgrading Kitchen and bathroom:
Because you spend most of your time in the Kitchen and bathroom, updating the outdated Kitchen and bathroom is critical. Kitchen renovations are the most popular home improvement because they allow you to socialize and prepare meals. Installing hanging cabinets in your kitchens will provide you with more storage options. Regarding bathroom renovations, the plumbing and electrical systems must be prioritized. Bathroom floors become slippery over time. Replace your floor materials with new ones to avoid slipping and falling.
Cosmetic changes to increase the property value:
Cosmetic improvements are the most important way to increase the value of your home. Cosmetic changes improve a home's appearance but do not alter its fundamental nature. Repainting the house, polishing and cleaning the floor, replacing outdated light fixtures, and replacing bathroom and kitchen countertop materials are all cosmetic changes used to increase the home's value and usability.
Changing exterior aspects of the property:
Because your home's exterior is a book's cover, it must be visually appealing. Passers-by are unlikely to be impressed by a tired-looking home. There are numerous ways to improve the exterior of your home.
Home landscaping isn't as difficult as you might think, but it does require perseverance. Landscaping significantly impacts the overall appearance and feel of your home. Whatever landscaping style piques your interest, make sure you consider the best type for your property.
Conclusion:
A home remodeling will undoubtedly produce positive results, mainly if you concentrate on the Kitchen, bathroom, and exterior. Because renovation is a relatively significant investment, it can be challenging to decide to take the plunge and go for it.